SQUASHSKILLS TRAINING CLUB
Improve your technique and fitness with squash-specific training programmes and get personalised advice from world-class squash coaches!
CHOOSE YOUR 6-WEEK COURSE
Master footwork speed and endurance with Gina Kennedy!
Course starts: 9th August.
Here's your chance to work with the best all-round athlete in the women's game today!
In this 6-week fitness programme, you can test yourself with some of Gina's favourite drills and exercises that have helped her develop the fastest feet on the World Tour!
All of the sessions are designed to incorporate a high degree of squash specificity, giving you sessions formulated to speed up your footwork, and to enable you to sustain the pace no matter what your opponent throws at you!
Master building foundations and attacking with Mostafa Asal!
Course starts: 10th May.
This exciting 6-week course focuses on developing your foundations and being able to choose the best time to attack from the positions you gain.

Asal will be sharing some of his key practices around mastering the important skill of building strong foundations, identifying the best time to attack, and attacking effectively from those positions.

This practical course will provide you with an extensive toolkit so that you can begin to evolve your technical, tactical, and mental skillset and take your squash to the next level.

Master the Foundations with Jesse Engelbrecht!
Course starts: 14th June.
Join this brand new beginner-focused course, and master the foundations of squash, expertly guided by our High-Performance Coach Jesse Engelbrecht.
Jesse will arm you with the knowledge you need to build and refine your skills at a comfortable pace, as well as introducing you to the key concepts that all players should look to incorporate into their game as early as possible.
Whether you're a complete beginner, have played for some time or are just returning to court, this course will be of high value.
We've got loads more big names lined up for 2022 so pre-register your interest and be the first to know when new STC courses open!
GUARANTEED TO IMPROVE YOUR GAME
If we told you that your squash game can improve significantly over the next 6 weeks if you dedicate as little as 2 hours a week, would you be up for the challenge? Your opponents will be sure to notice your improvements as well…
The SquashSkills Training Club offers 6-week online training programmes proven to significantly improve your game with the help of our elite coaching team, and the best players in the world. Develop your skills or fitness in a group of like-minded squash players whilst keeping the flexibility of training at your own pace and in a way that fits in with your life.
You don't have to be a top athlete to take part - STC courses are available to everyone and you can fit the whole course around your own schedule.
By signing up to an STC course, you'll get access to 2 main and 2 bonus sessions every week, 3 Zoom calls with the pro player, direct access to a coach for guidance and advice, our squash-specific training app and the camaraderie of a tight-knit community, supporting and celebrating one another's improvements.
The aim is simple: to create a virtual training environment that offers support, accountability, advice and motivation for players of all levels who are looking to improve their technique and fitness, on or off-court. The STC also helps you get closer to the biggest names in the game. Learn from the best World Tour players and coaches, hear first-hand about their methods, insights and secrets that have got them to the top of the game.
With over 600 participants from over 40 countries, we've perfected a number of programmes to match everyone's individual goals and we've seen some great results!
Our 6-week training programmes use a combination of the SquashSkills Training app, live consultation calls, how-to videos, PDFs and online training diaries to guarantee results. This will all be supported by the creation of a WhatsApp group offering real-time chat. We keep the group sizes small to create a great community spirit ensuring everyone receives quality time and attention from the coaches.
EXPERIENCE THE BRAND NEW SQUASHSKILLS TRAINING APP!
All STC courses will now be run on our brand new SquashSkills Training app. Following a programme, logging your squash and fitness workouts and progressions has never been easier, so pick your favourite course and sign up now!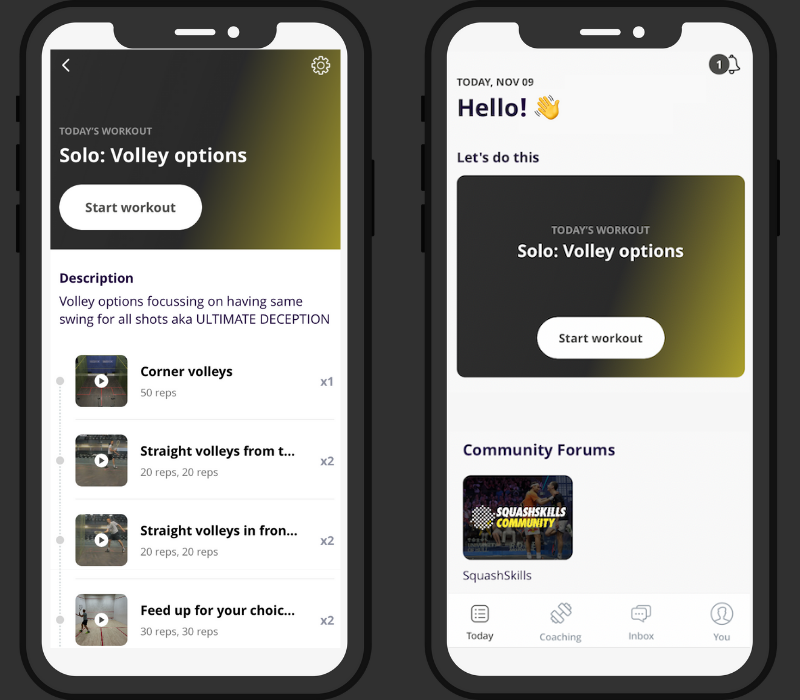 STEP-BY-STEP OVERVIEW AFTER YOU SIGN UP
Before the course starts, you will receive an email with the final details to get you all set up - We will give you links to download the training app, join the WhatsApp chat with the coach and you will also get the first Zoom call date and time.
The first Zoom call usually takes place on the 1st or 2nd day of the course - The purpose of the Zoom call is to run you through the course details, get to know everyone else and ask any questions you may have.
On the first day of the course, you will receive your first weekly sessions in the training app - We usually assign you 2 main sessions and you can also do the 2 bonus sessions if you have more time. All the sessions will be 30-50 minutes long and you can schedule them around your own availability. Don't worry if you get behind for whatever reason, you can just continue where you left off.
For the rest of the 5 weeks, you will receive new sessions every Monday - We work in three blocks, so you will receive new sessions on weeks 1, 3 and 5 and then repeat those sessions on weeks 2, 4 and 6. This way you will have enough time to really improve your technique - practice makes perfect.
Throughout the course, you will have 3 Zoom calls with the coach and the pro player - The topics vary based on the course but the main topics are usually: Q&A, follow-along fitness session, game analysis - all with the pro player, so you will get really good insights into their life as an athlete. Don't worry if you can't make the Zoom calls for any reason as we will also share the recordings with you.
During the course, you will be a part of a WhatsApp chat with the coach and the rest of the participants - This is really your chance to share how you're getting on with the course and ask the coach any questions that you have about training (recovery, technique, nutrition, feedback etc). The tight community supports and motivates you to keep on going and the pro player will also send in their videos and voice messages about their training.
Once the course is finished you will still have all the materials - You can always go back and re-do the 6-week course if you want. All the sessions and the Zoom call recordings will stay with you and the WhatsApp chat will stay available as well if you ever want to message the rest of the participants.
FREQUENTLY ASKED QUESTIONS
What is the time commitment like with these courses?


Each course consists of 2 main sessions and 2 bonus sessions per week. Each session is around 30-45 minutes long. You will receive new sessions every Monday in the app and you can finish the weekly sessions around your availability, there are no specific days for the sessions.
The whole course is very flexible and you can participate from anywhere in the world!
What level are the courses suitable for?
Each course is suitable for all levels from beginners to pros. The coaches will make sure you'll receive training suitable for your level and recommend any adjustments where needed.
Are these suitable for juniors?
The courses are suitable for all ages, including juniors. As the main communication channel with the coach and the rest of the team is WhatsApp then it is either the junior or the parent or both in the WhatsApp group to keep an eye on any notes, activities etc, depending on how the family decides.
For further questions please contact Sandra at sandra@squashskills.com!

IT'S HOW YOU TRAIN! NOT WHERE YOU TRAIN.
WHAT THE PARTICIPANTS SAY
ABOUT THE PROGRAMMES
"These weeks have been much more than just following drills laid out by Gary. The Training Club has also been about uncovering strengths and weaknesses, supporting each other, and learning how to become optimally fit for squash."
- Teresa Conza, USA
"This programme is terrific. Targeted, effective, intense, yet fantastic camaraderie among the group participants. The squash-specificity of the drills and sessions really shines. And can be adapted to indoors or outdoors, smaller/larger spaces. I'd recommend this to everyone!"
- Juliet Lamont, USA
"Perhaps the biggest endorsement I can give for the SquashSkills training sessions is that after years of ghosting, court sprints, and running, it made me realize how little I knew about training smart. Gary patiently showed us that squash training is not about doing crazy amounts of court sprints. It's a sport that requires a balance of endurance, speed, agility, and strength. The program covers all of those areas and allows you to target weaknesses in particular ones so your overall training becomes so much more effective. Another thing the programme taught me was that this approach is not just for advanced players. My 11-year old son loved the sessions as well as my wife who does not play squash. Thanks to Gary for putting together not only an awesome set of routines but for introducing us to an infinitely better way of training!"
- Jim Marino, Italy
"My highest recommendation goes to the SquashSkills 6 week Training Club, which I just completed last week. A definite rating of 10/10 from me.
Gary Nisbet has injected the programme full to the brim, with such a wide variety of squash specific exercises, resulting in a programme that was 100% motivating, novel, challenging and always interesting. The movement of some of the exercises were such, that I could almost imagine being back on the court!
Each workout could be completed in our own time, and readily adapted to any indoor and/or outdoor space, that we each had, in our own unique lockdown situations.
The SS team were available daily to encourage, give guidance and respond to any queries we each had. There was no shortage of support.
It was an added bonus that I got to train with such a great bunch of squash enthusiasts from all over the world, sharing mutual positive motivation.
My eyes were completely opened to the variety of skills and exercises that underlie squash, stemming well beyond cardio/endurance, to include stability/balance, power/strength and mobility, allowing me to discover my own individual pattern of strengths and weaknesses. The SS programme quickly identified for me some key areas to target in my ongoing training.
Since I finished my SS programme, I have continued with the workouts and could easily continue in my training independently as I am now familiar with the kind of exercises that are of value. However to keep the challenge and motivation going, I have opted to book again to participate in yet another SS programme, and this time bringing a few squash mates with me for the ride!
I cannot rate this training highly enough for any eager squash player."
- Lisa, Ireland , Masters Squash Player
IT'S HOW YOU TRAIN! NOT WHERE YOU TRAIN.